We just came from another Howard Alan art show.. our fourth one.  And we have decided that HA customers are just not ours.  Though we aren't sure why, but 3 of the 4 shows were not even breaking even shows…so we will just call it quits on that.
However, the slow shows gave me lots of time to appreciate others art, so I'm going to share a few finds with you..
One is Tim Dardis.. Vintage Art Made Daily.  He does bold and color paintings on wood.  You can check them out on Esty at https://www.etsy.com/shop/SecondSarah?page=1   Below is his Egret.  I wish you could see his alligator picture, if we have a great show here and he still has it.  It is coming home with me!  And I don't even like gators!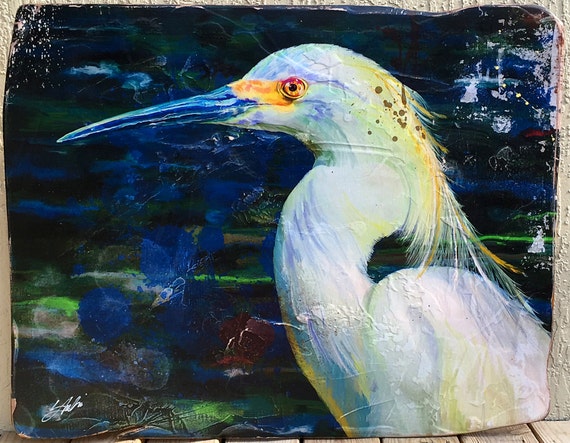 Another Artist was Shano.. he is a jewelry artist out of my birth state, Colorado.  Does some amazing silver jewelry.  His detail is well worth owning.  As a metal artist myself and a baby silver smith.. I am amazed at his designs and knowledge.   Check it out! http://shanojewelry.com/
Amazing art!  I think I appreciate art more than I did before I tried to make a living at it.  I use to look at it and appreciate the piece of art, but now I appreciate the work that goes into a piece.  A lot of people ask how long it takes an artist to make a piece and I suppose every artist answers them differently.  But I think the answer should be 'A lifetime of experience, hopes, and dreams!  A lifetime of heartache, failure and disappointment!  A lifetime of joy, acceptance and triumphs! A LIFETIME!'  Because in truth that's what each piece is.. it's us wrapped up in the medium we use… think about that next time you appreciate or don't someone's art… it is their soul.